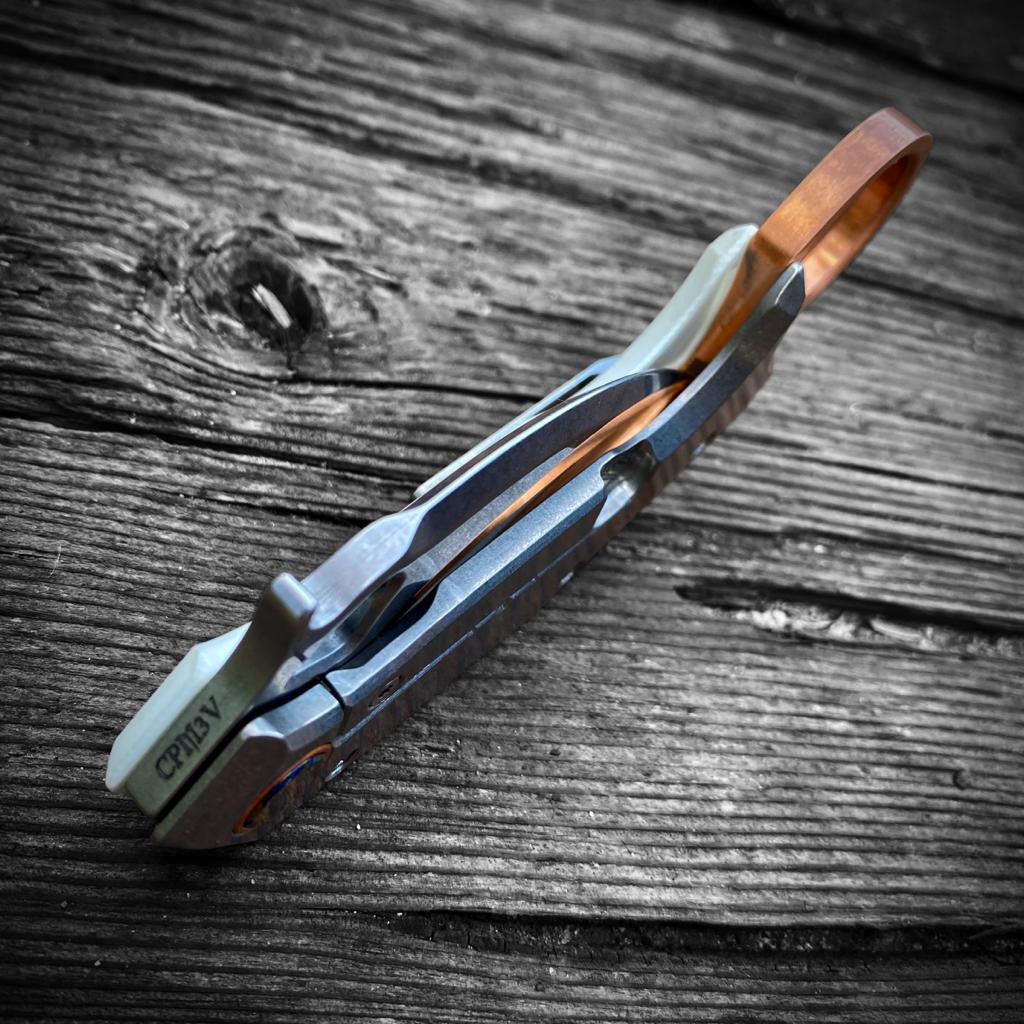 Regular price
$1,299.99 USD
Regular price
$1,777.00
Sale price
Unit price
per
View full details
FREE U.S.
SHIPPING OVER $99*
MILITARY/EMS/LE DISCOUNT
30 DAY
RETURNS
Specifications
M3

Karambit

Overall Length

6.70 in.

Blade Length

2.43 in.

Blade Thickness

0.18 in.

Blade Material

CPM3V Super Carbon Tool Steel professionally heat treated to 60HRC & Cryo by Phoenix Heat Treat

Blade Grind

Plain

Blade Finish

Stonewashed

Edge Type

Single Edged

Handle Length

4.26 in.

Handle Material

Titanium / G10

Handle Thickness

0.54 in.

Handle Color

White

Closed Length

4.26 in.

Lock Type

Frame Lock AEBL heat treated lock bar insert

Weight

3.70 oz

Attachment

Reversible Tip Down Clip

Extra Features

Timascus Hardware, Cooper Back Spacer With Ring, Delrin Caged Ceramic Barings.

M3 Oil

Will be included in the Pelican Case

Pelican

Case

Interior

10.54 x 6.04 x 3.16 in.

Exterior

11.64 x 8.34 x 3.78 in.

Lid Depth

1.08 in.

Bottom Depth

2.08 in.

Total Depth

3.16 in.

Int Volume

0.12 cubic ft.

Weight Width Foam

2.10 lbs

Buoyancy

7.25 lbs
Description
This item is personalized for you, comes in a custom pelican case, and free M3 Knife Oil, please see specs of each.
M3 UDT White Timascus CPM3V Super Carbon Folding Karambit
History of the UDT
(US Navy Seals: Underwater Demolition Teams)
During World War II, a number of small elite maritime units joined the Allied forces. These specially trained personnel assisted submarine operations, prepared for the invasion of Normandy and successfully landed on beaches under the cover of darkness.
In 1942, an amphibious landing craft sank in the Pacific after hitting a submerged reef. Many of the crew members died from drowning or gunfire as Japanese fighters attacked the sunken ship. In response, the Navy formed the Underwater Demolition Teams that could map underwater obstacles, take sea depth bearings and clear features like the reef ahead of amphibious landing craft. UDT-1 and UDT-2 had 14 officers and 70 enlisted men each. Their involvement at the end of World War II was a significant factor in the outcome of the war. These units served as ancestors to modern-day SEALs.
During the communist attack on South Korea in 1950, the UDTs undertook marine-only endeavors and also participated in inland raids. Inspired by the success of these units, the Chief of Naval Operations, Admiral Arleigh Burke, proposed the UDTs also conduct covert assignments that were not limited to water. The Navy staff agreed and decided the UDTs should also possess abilities to engage in unconventional warfare.
By March of 1961, Burke appealed for a combined new special operations unit who he called Navy SEALs. The appeal described the capabilities for the unit as encompassing SEA, AIR, and LAND producing the acronym SEAL. Just two months later, President Kennedy sent a letter to Congress lobbying for the creation of a new Naval Special Forces unit. Congress agreed and SEAL Teams One and Two were formally established in January of 1962. Many people credit Kennedy with the beginning of the Navy SEALs, but the Teams did not arise overnight. Located on opposite coasts, the existing UDTs became the first members to these prestigious teams.
M3 Knife Oil 10 ml (M3KNIFEOIL10ML) *FREE, INCLUDED IN THE ORDER
Pivot & Blade Coating

Also brings out the shine & depth of handle material

100% skin & food safe / 0 chemicals

10ml bottle w/ precision needle applicator

Smooths, cleans, and protects

Made in the USA
Fitted Vault Personalized 1170 Protector Pelican Case - We will email you after the order for personalization
Pelican™ Protector Case™
Sensitive equipment needs protection, and since 1976 the answer has been the Pelican™ Protector Case. These cases are designed rugged, and travel the harshest environments on earth. Against the extreme cold of the arctic or the heat of battle, Pelican cases have survived.
Made in the USA, these tough cases are designed with an automatic purge valve, that equalizes air pressure, a watertight silicone O-ring lid, over-molded rubber handles and stainless steel hardware.
The hand-held electronics protection solution

Pick N Pluck™ with convoluted lid foam

Watertight, crushproof, and dustproof

Open cell core with solid wall design - strong, light weight

Easy open Double Throw latches

Automatic Pressure Equalization Valve - balances interior pressure, keeps water out

O-ring seal

Stainless steel hardware
** The UDT and the oil will be fitted in the Pelican Case.
FAQs
A Karambit knife is a curved, claw-like knife originally designed for agricultural and utility purposes. It is now widely used in various applications, including self-defense, martial arts, and outdoor activities due to its ergonomic design and versatility.
The legality of carrying a Karambit knife varies by location. It's essential to research and comply with local laws and regulations regarding knife possession and carry.
Yes. From the 11th century on, the karambit has proven itself to be a fully capable every day carry knife. Whether wielding a karambit for work, chores, household use, hunting, fishing, recreation, backcountry survival, self defense or for martial arts, a karambit knife is a practical choice for a safe, multi-use every day carry blade.
Choosing the right Karambit knife depends on your intended use. Consider factors like blade material, size, and handle design. Our product descriptions provide details to help you make an informed decision.
Shipping costs are calculated automatically upon checkout.
We ship all around the world.
Orders to P.O. Boxes or military addresses require shipping via USPS.
Orders will be shipped within 3 business days, with the exception of custom and back ordered products. If you insist that your order arrive on or before a certain date, please CONTACT US in advance to discuss how we may meet your needs
If you are not satisfied with your purchase you may notify us within 3 days of receipt for a refund of the cost of the knife. Shipping charges are not refundable. Refunds will be issued in the same method as the order payment.

If an item needs to be returned due to our error, we may offer a full refund including shipping at our discretion. Any condition visible in our product pictures is considered to be disclosed and does not constitute an error or omission on our part.

The item must be returned in the same condition as received and must be shipped fully insured via any common carrier. Most custom knives are guaranteed by the makers we represent, and most factory knives carry the manufacturer's warranty. We do not guarantee the durability of natural handle materials (such as bone, ivory, wood, pearl, etc.) or the reaction of any material to water and air (rust, oxidation, etc.)

Contact us before sending any item back as a return. All returns must be insured.
Yes, we offer customization and engraving services. You can add the desired options to your cart and then specify the type of engraving you want during the checkout process. Please click [product link] to get started.