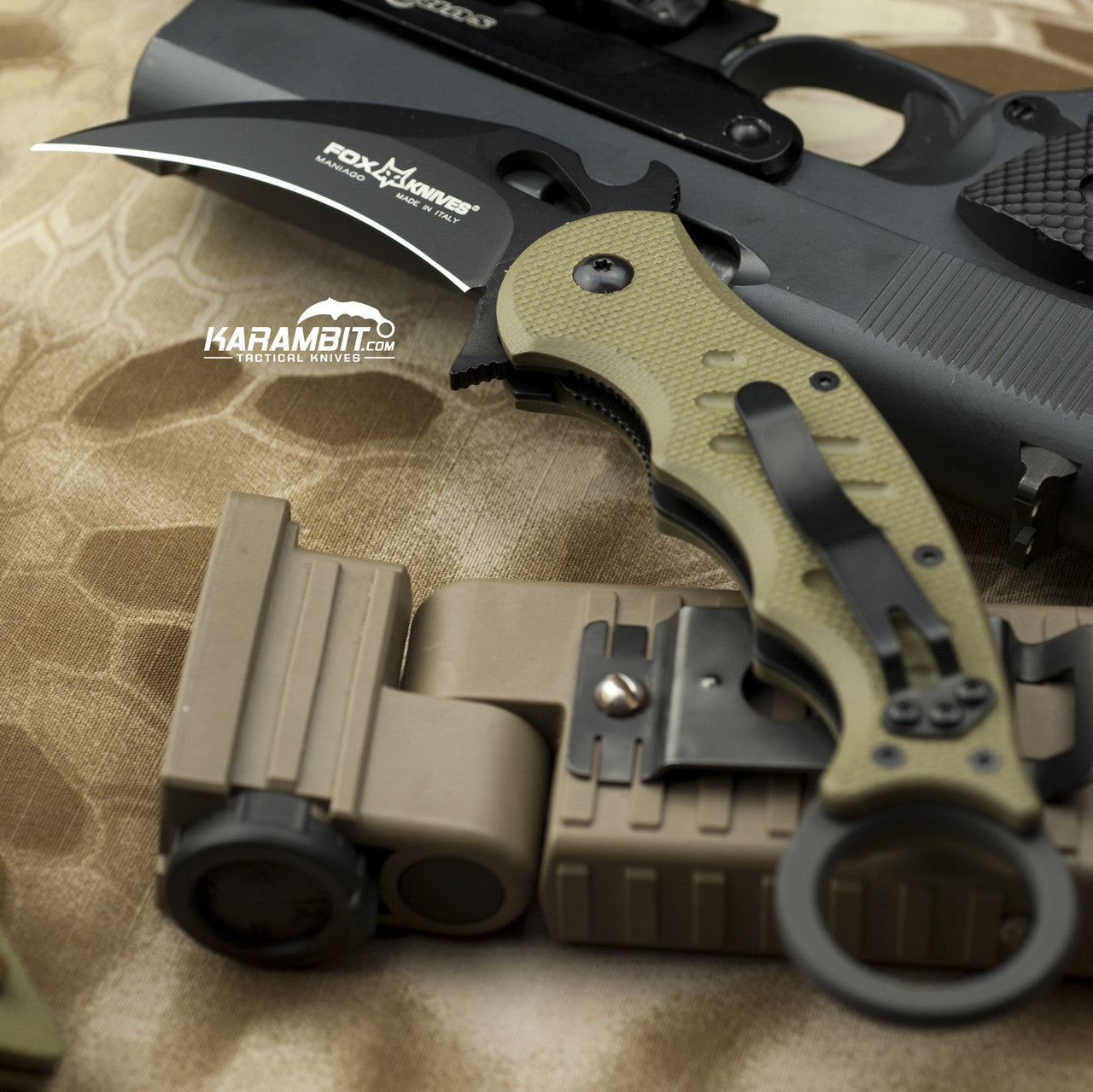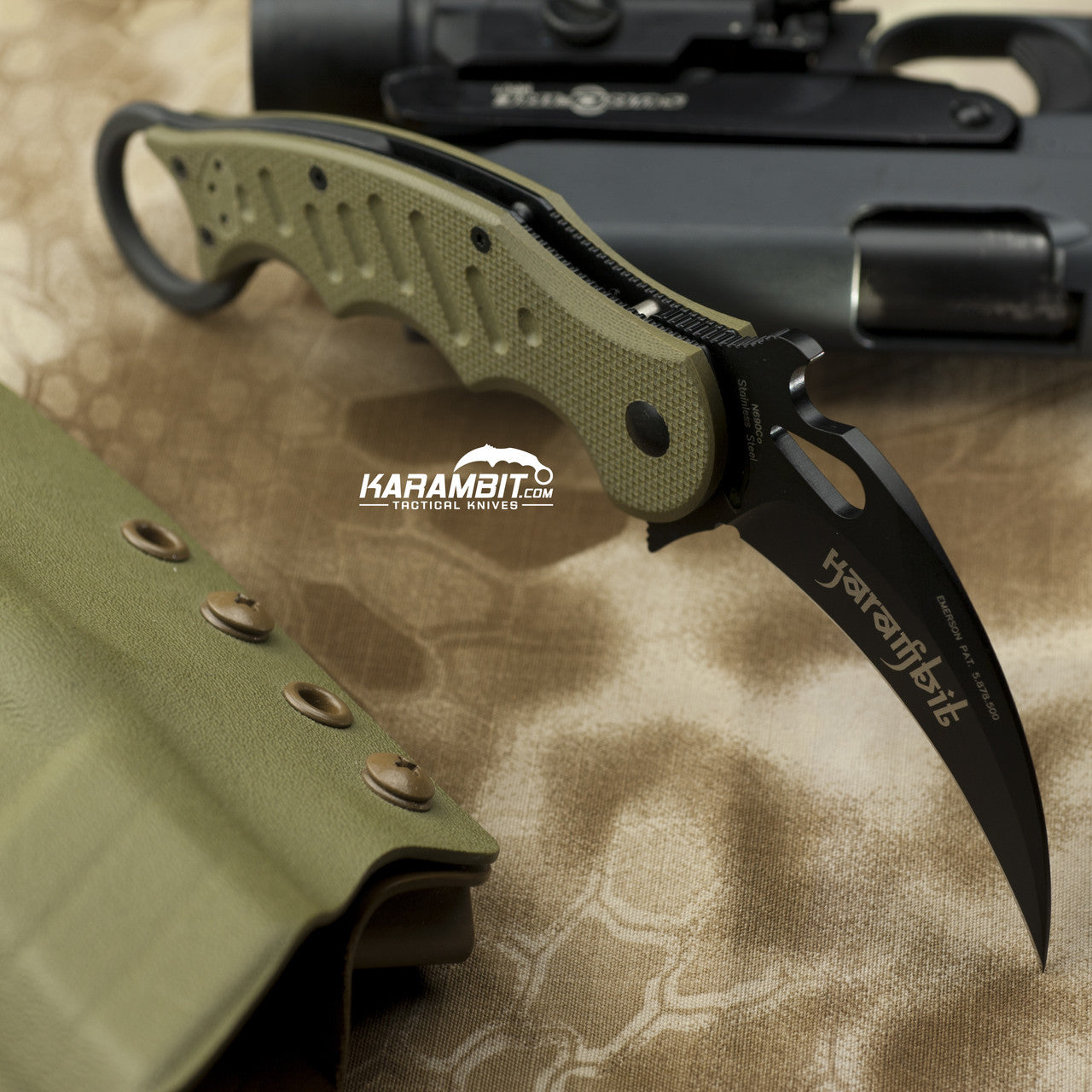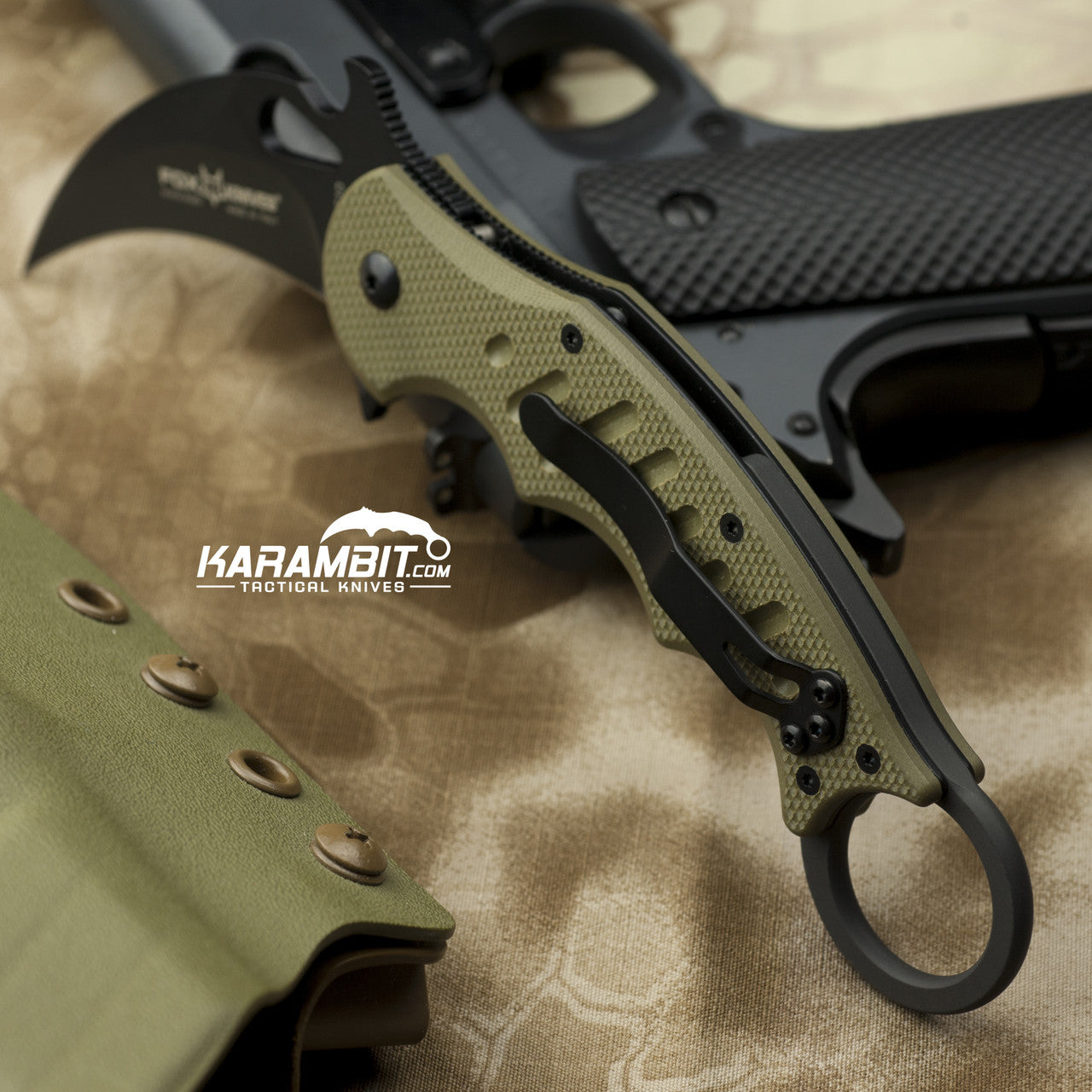 Regular price
$139.99 USD
Regular price
$195.95
Sale price
Unit price
per
View full details
FREE U.S.
SHIPPING OVER $99*
MILITARY/EMS/LE DISCOUNT
30 DAY
RETURNS
Specifications
HANDLE SIZING

For hand sizes measuring 3.6" or over across the back of your knuckles. If smaller, see Fox 599

Overall Length

7.60 in.

Blade Length

3.00 in.

Blade Thickness

0.11 in.

Blade Material

N690 Co Steel

Blade Grind

Plain

Blade Finish

Black Teflon

Edge Type

Single Edged

Handle Length

5.50 in.

Handle Material

G10

Handle Color

OD Green

Closed Length

4.60 in.

Lock Type

Liner Lock

Liner Material

Stainless Steel

Handle Thickness

0.50 in.

Weight

4.60 oz

Emerson Wave

Yes

Attachment

Reversible Clip
Description
The Fox 479 G10 OD Green Folding Karambit is one of the best self-defense tools and utility knives available on the market. This karambit has been field tested in the most hostile climates by some serious badasses, and it's proven itself time and time again to be of the highest quality. Whether you need a utility knife to open boxes and clamshell packaging or a reliable self-defense tool to open a can of whoop ass, Fox karambits are a force to be reckoned with. If you want the most reliability in any situation where a need arises for a good blade that works and works well, this is your knife.
Features
Utilizes the Emerson Wave, which is the most effective and efficient deployment option available in the knife industry. The patented Emerson Wave allows you to fully deploy your karambit effortlessly with just one hand.

Strong, consistent edge with high degree of sharpening receptivity

Enhanced edge retention

Corrosion resistant

Easily concealable

Suitable for military, LEO, security, civilians, first responders, and utility workers

Safety ring for a sure and secure grip, even in extreme environments

Safety ring allows you to utilize in less-than lethal situations by keeping the closed karambit in your hand

Can be utilized for blunt force or as a control device

Great for increasing primary weapon retention

Textured, olive drab G10 scales

For hand sizes measuring 3.6" or over across the back of your knuckles. If smaller, see Fox 599 OD Green
Specs
The highly sought after Fox 479 karambit is manufactured by Fox Knives in Maniago, Italy, using one the highest quality and strongest steels: NC690Co Stainless Steel.
The tiger claw shaped and black teflon coated blade provides devastatingly sharp tip and blade surface with a thickness of .12" and length of 3", offering a total reach of 7.5" when fully extended and 5" when closed. The 479 karambit utilizes a liner lock and weighs in at a mere 4.02oz. The adjustable pocket clip allows ambidextrous use. This karambit is designed for tip-up carry with the patented Emerson Wave feature for fast deployment in a reverse grip. Reverse grip most effectively utilizes the blade's slashing power from its pocketed resting position in an upward motion, but the knife can also be utilized in the forward grip. The olive drab G10 scales provide a durable, sure grip and increase concealability, especially in tactical environments.
If you're looking for an all-black Fox 479 folding karambit, you can find one here.