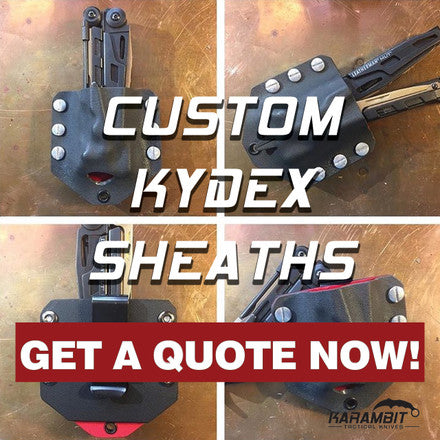 View full details
FREE U.S.
SHIPPING OVER $99*
MILITARY/EMS/LE DISCOUNT
30 DAY
RETURNS
Specifications
Lead Time

2-3 Weeks

Availability

Made to Order
Description
Custom Kydex Sheaths
We offer the highest quality custom kydex sheaths for any knife, sword, axe, or tool (leatherman, pliers, lighters, flashlights, etc). Prices for custom kydex knife sheaths start at $49.99 USD.
If you want some other sheaths outside of the options provided above then please:
Step 1. Submit Photos:
Contact us to request to submit your photos of the item(s) you wish to have a custom sheath made for. In your reply, please include all of the following information from the steps below
Step 2. Color:
Tell us the kydex color or pattern. Requests beyond basic colors may incur extra charge.
Step 3. Orientation:
Choose the orientation and location on carry such as a Neck Sheath, Right handed belt sheath, left boot sheath, etc.
Step 4. Lining:
Choose a lining, such as leather or fabric, or none at all. This is most useful for knives with a mirror polished finish to prevent scratches.
Step 5. Attachment Method:
Choose an attachment method such as static cord, combat loop, IWB clip, or custom loop. All sheaths are set for Combat Loop spacing.
Step 6. Payment:
An invoice will be emailed to you with a summary of your request including return shipping charges.
Step 7. Shipping:
When the invoice has been paid, you will need to send your item to the address we will provide to our sheath maker. Please make sure that you provide us tracking and purchase any required insurance to and from the destination. We are not responsible for any items lost in the mail. If sending a knife, make sure its in the original sheath and the blade isn't exposed.
Ready to get started? Contact us today!
(NOTE: In the event that a customer wants specialty kydex, eyelets, mounts, or non bladed items done a custom quote will be required.)