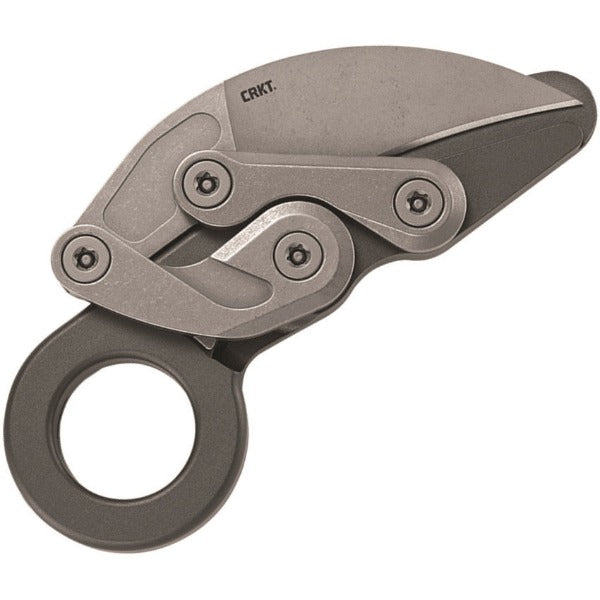 Regular price
$149.99 USD
Unit price
per
View full details
FREE U.S.
SHIPPING OVER $99*
MILITARY/EMS/LE DISCOUNT
30 DAY
RETURNS
Specifications
Overall Length

6.75 in.

Blade Length

2.25 in.

Blade Material

D2 Tool

Blade Thickness

0.20 in.

Blade Finish

Stonewashed

Edge Type

Single Edged

Handle Material

Aluminum

Handle Length

4.50 in.

Handle Color

Grey

Handle Thickness

0.60 in.

Closed Length

4.50 in.

Weight

5.44 oz

Attachment

None
Description
Provoke (verb, Latin) - from the prefix pro meaning "forward, forth, to the front" and vocare meaning "to call"
The CRKT Provoke Morphing Karambit is like no folding karambit knife you've ever seen. This innovative, futuristic curved knife draws from traditional karambit designs but underneath its sleek exterior, it hides a science fiction-worthy secret. With a single press of your thumb, this revolutionary folder karambit instantly shoots into its extended position, all without ever risking contact to your fingers. Since the blade deploys directly forward and then retracts back into its closed position for carry, your fingers are always out of the path of the blade, unlike every other folding karambit out there.
Specifically designed for first responders by knife designer Joe Caswell, the CRKT Provoke truly has to be seen to be believed. It's the first knife to feature the cutting edge Kinematic™ technology, which is what allows instant, seamless extension and retraction of the blade without springs or other propulsion mechanisms. Thumb pressure to the upper crossbar triggers the deployment of the razor sharp blade whereas pressing the inset lever just below the safety ring reverses the mechanism.
While the deployment mechanism and carry style of this karambit is a marvel of modern engineering, they aren't the only things unique about this tactical karambit. The pocket clip sits almost flush to the body of the blade so you never have to worry about it getting hung up or caught on things. When you want to clip it to your pocket or to an equipment vest / belt for carry, just press the clip to open it and slide the Provoke securely into place. Additionally, the design of the pocket clip appears ornamental, unlike most others. This allows for zero profile carry into even the roughest situations.
CRKT Provoke Karambit Features
Kinematic™ technology deploys the blade quickly and safely
D2 blade steel for optimal edge retention
Titanium nitride finish for added resistance to corrosion
Black milspec Type III hard anodized finish
Strong, lightweight, durable handles made of 6061 aircraft grade aluminum
Seamless integration of carry and deployment features
Designed for first responder use, including law enforcement and other tactical specialists
Transitions from closed blunt force weapon to sharp force weapon without ever requiring a regrip
1" safety ring diameter allows for use with or without gloves
Uniquely designed pocket clip allows for zero-profile deep carry
Razor sharp out of the box
How the CRKT Provoke Karambit Deploys