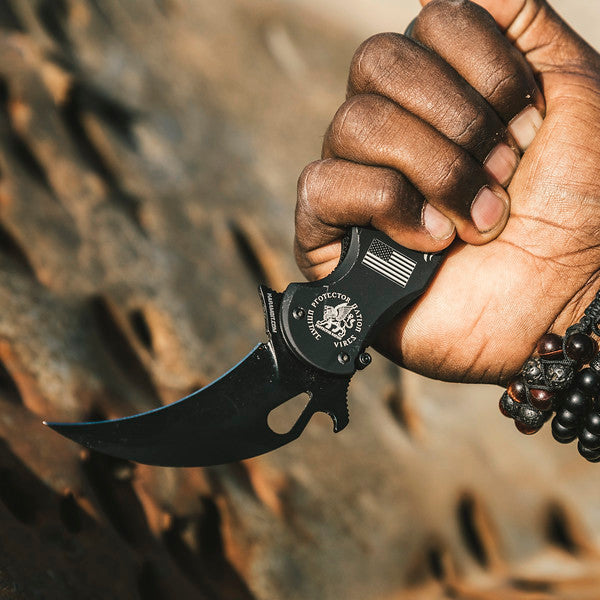 Regular price
$259.99 USD
Unit price
per
View full details
FREE U.S.
SHIPPING OVER $99*
MILITARY/EMS/LE DISCOUNT
30 DAY
RETURNS
Specifications
HANDLE SIZING

For hand sizes measuring 3.6" or over across the back of your knuckles. If smaller, see Fox 599 EVO

Overall Length

7.60 in.

Blade Length

3.00 in.

Blade Thickness

0.11 in.

Blade Material

N690Co Steel

Blade Grind

Plain

Blade Finish

Black Idroglider

Edge Type

Single Edged

Handle Length

5.00 in.

Handle Material

Aluminum

Handle Thickness

0.50 in.

Handle Color

Black Engraved

Closed Length

5.00 in.

Lock Type

LAWKS

Liner Material

Stainless Steel

Weight

4.60 oz

Attachment

Reversible Clip

Emerson Wave

Yes
Description
EVO is for Evolution. The Fox Karambit has...EVOlved!
Protector Nation's new exclusive release: The Protector Talon. The Talon does just that: It protects. The unique hawksbill design of the Karambit knife is ideal for self-defense situations. It's Byron Roger's every day carry that he uses not only as a multi functional tool but also as his favorite self-defense blade. Let's face it, it's natures killing design and what better blade to use when protecting yourself or others?
Features
Manual LAWKS liner lock safety system
Removable handles (compatible with Fox EVO 479 handle sets only)
Hidden pivot
Blade with minimal writing and stealth like appearance
Patented Emerson Wave
Razor sharp, durable edge straight out of the box
Easily sharpened
Holds edge well
Resists corrosion
Easy to conceal and carry
Blackened for tactical use and deployment
Suitable for military, LEO, security, civilians, first responders, and utility workers
Safety ring for enhanced weapon retention
Secure grip in extreme environments
Matched Fox 479 trainer for safe practice
WHAT'S INCLUDED?
1x Fox 479 EVO Folding Karambit
1x Set of Fox 479 EVO Fine Textured Protector Talon G10 handles (attached)
1x Pocket clip (attached)
1x Torx Screwdriver (Torx 6 & Torx 8)
WHAT IS LAWKS?

The Lake and Walker Knife Safety system (LAWKS) is a patented additional security feature for folding knives designed by noted Knifemakers' Guild members Ron Lake and Michael Walker, in which the user can manually toggle a lever that moves a solid metal plate between the liner lock and the handle after the knife has been opened, preventing the liner lock from being disengaged, essentially turning the knife into a fixed blade. To disengage the LAWKS, just push the lever in the opposite direction, and the liner lock will function to close normally.

LOOKING FOR DIFFERENT HANDLES?

Click here for Fox Evo Removable Handles